Main Content
Kerikeri Boutique Accommodation
The Carriage House

Bay of Islands, NZ
2-4 Guests
2 Bedrooms
2 Ensuite Bathrooms
Accommodation Details
Set in a quiet location overlooking Kerikeri Inlet, The Carriage House is just 5 mins from restaurants, shops and the historic sights of Kerikeri in the Bay of Islands.
Enjoy sole occupancy of The Carriage House self-catering accommodation. You look over the Kerikeri Inlet with jetty for your boat or kayak or just take a walk to enjoy the reflections of moored yachts.
Good location for exploring the Bay of Islands!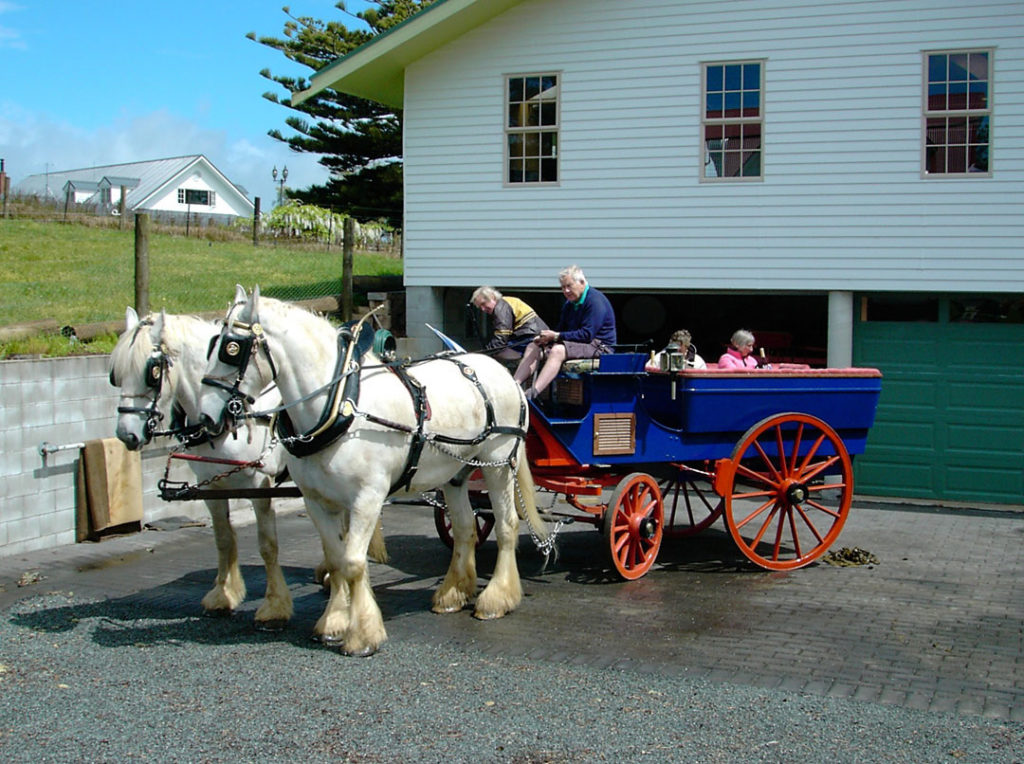 Boutique Accommodation The Carriage House – Kerikeri Northland NZ
Horse lovers enjoy heavy horses still pulling carriages and wagons.
Central location for boating, fishing, sailing on the Bay
Kerikeri in the Far North of NZ is popular with guests from USA and Europe escaping the northern Winter. Visit the first settlement buildings Stone Store Kerikeri and the riverside walk to Rainbow Falls.
Things to do
in the Bay of Islands
Experience a boat trip to the famous
Hole in the Rock!
"Wonderful holidays..."

The carriage house is a great place to stay, excellent location to discover the Bay of Islands and travel north....

read more

The carriage house is a great place to stay, excellent location to discover the Bay of Islands and travel north. Adrian is an amazing host. The house, the horses and an amazing collection of cars and carriages, everything was perfect.

read less

Dream0597...

17 Jan 2021

Wonderful holidays...

The carriage house is a great place to stay, excellent location to discover the Bay of Islands and travel north....

read more

The carriage house is a great place to stay, excellent location to discover the Bay of Islands and travel north. Adrian is an amazing host. The house, the horses and an amazing collection of cars and carriages, everything was perfect.

read less

Dream05975349608

17 Jan 2021

Wonderful holidays...

The carriage house is a great place to stay, excellent location to discover the Bay of Islands and travel north....

read more

The carriage house is a great place to stay, excellent location to discover the Bay of Islands and travel north. Adrian is an amazing host. The house, the horses and an amazing collection of cars and carriages, everything was perfect.

read less

Sarai64x

17 Jan 2021

"Superb spacious getaway "

Located about 2km to from the center of KeriKeri, The Carriage House was a real find. Set in rural paddocks...

read more

Located about 2km to from the center of KeriKeri, The Carriage House was a real find. Set in rural paddocks with horses, very peaceful.
Immaculately clean, with two bedrooms both with bathrooms a well appointed kitchen and lounge. Adrian is super welcoming!
Would highly recommend.

read less

Andrew P

02 Jan 2021

A fantastic stay! Two days of fascinating stories of horses, vintage cars, antique furniture, rides in wagons pulled by lovely...

read more

A fantastic stay! Two days of fascinating stories of horses, vintage cars, antique furniture, rides in wagons pulled by lovely Shires and also Gypsy cobs, looking at a vast array of old harness (some from World war One), dining at the Plough and Feather, visiting the Stone Store and Kemp House... the list could go on and on! Grateful thanks to Adrian and his wholehearted welcome!!

read less

Penelope Foote

08 Dec 2020

A fantastic stay! Two days of fascinating stories of horses, vintage cars, antique furniture, rides in wagons pulled by lovely...

read more

A fantastic stay! Two days of fascinating stories of horses, vintage cars, antique furniture, rides in wagons pulled by lovely Shires and also Gypsy cobs, looking at a vast array of old harness (some from World war One), dining at the Plough and Feather, visiting the Stone Store and Kemp House... the list could go on and on! Grateful thanks to Adrian and his wholehearted welcome!!

read less

Penelope & David Foote

08 Dec 2020

"Such a memorable stay!"

I am thrilled to write a review for the Carriage House. My husband and I stayed for two nights for...

read more

I am thrilled to write a review for the Carriage House. My husband and I stayed for two nights for our anniversary and absolutely loved it.
Adrian was such a welcoming host. Knowing that I am very interested in horses and in particular driving horses, he went out of his way to take us on two wonderful rides. First with two lovely gypsy cobs and the next day, through Kerikeri township with two of his beautiful Shires. It was amazing!
Both David and I found it fascinating seeing Adrian's vintage cars, the large array of harness for the horses, his beautiful furniture and clocks, and so on!!
The Carriage House is everything I hoped for and more...spacious, spotlessly clean, and welcoming. I would have loved to stay longer.
The Stone Store is fascinating, Kemp House beautiful, the gardens around them inspiring. We had lunch at the Plough and Feather-fantastic! There were lots of choices for dinner...all in all, a wonderful time (and that's without going further afield and exploring the beautiful Bay of Islands!

read less

Inspire59...

07 Dec 2020

"high standard"

i have travelled with my friends many where in Newziland and have stay in many hotel but we haven't ever...

read more

i have travelled with my friends many where in Newziland and have stay in many hotel but we haven't ever seen the standard like THE CARRIAGE HOUSE - BAY OF ISLANDSI

read less

Aliya342

01 Nov 2020

"THE place to Stay in Kerrikerri"

Adrian & Silvia are the perfect hosts..the accommodation is perfect for two couples or a family.. clean, well equipped and...

read more

Adrian & Silvia are the perfect hosts..the accommodation is perfect for two couples or a family.. clean, well equipped and VERY comfortable.
The location is just outside of Kerrikerri which is a great town to base yourself to explore the area..good restaurants and very alive!
Adrian has the most amazing collection of vintage carriages & cars and will delight you when he shows you his 'Toys'..in addition he has some wonderful cart horses to pull the carriages .. we were lucky enough to clip clop into town on one..very regal!
we stayed for 5 nights and enjoyed every moment..even to the point of saying we will probably have a return visit.
Go for it!

read less

duncanhjb...

11 Nov 2019

"High quality accommodation in beautiful setting"

Family holiday here with two primary-school aged boys. We have travelled quite a lot in NZ and this is a...

read more

Family holiday here with two primary-school aged boys. We have travelled quite a lot in NZ and this is a really high standard, very clean and lots of kitchen equipment. Beautiful wooden floors, lots of space and 2 modern bathrooms; but also very unique and historic with many carriages, cars, horses and other animals to amuse the children. Very friendly welcome from Adrian who was available to answer questions at other times. Amazingly generous on our last morning when he agreed to take us out in his horse-drawn carriage - a real experience. Great location (you'd need a car to get into the centre of Kerikeri and restaurants etc, although we did a nice 20 minute country walk to the Stone Store), very peaceful and lovely views from the slightly elevated position of the apartment. We stayed 4 nights then went over to Hokianga for the rest of the week, which was a great combination, although there's plenty to do around Kerikeri and wouldn't get bored if staying a week or longer.

read less

Philippa...

12 Oct 2019